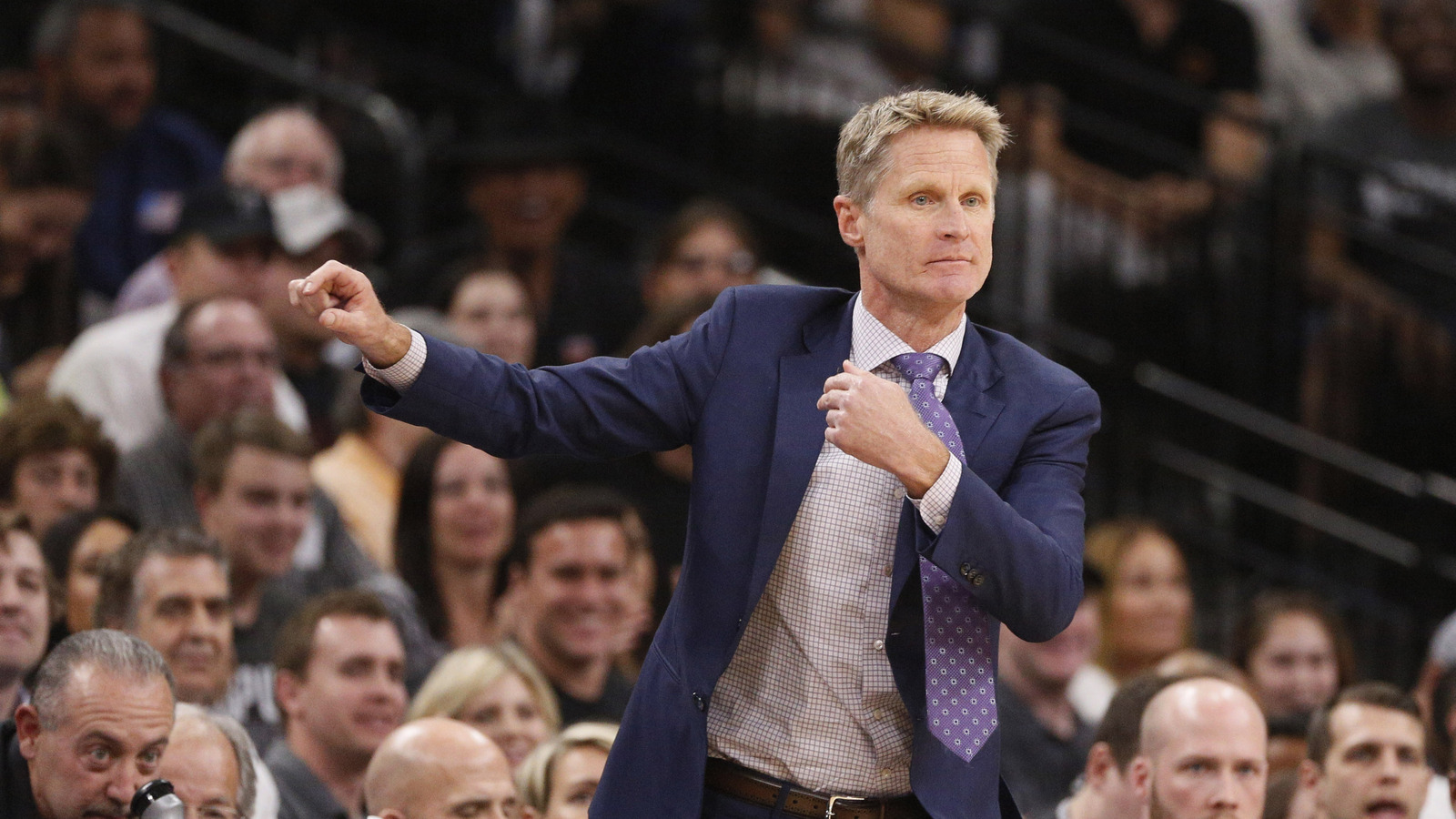 Mar 29, 2017; San Antonio, TX, USA; Golden State Warriors head coach Steve Kerr gives direction to his team against the San Antonio Spurs during the first half at AT&T Center.  Soobum Im-USA TODAY Sports
The long NBA regular season is finally over. We're now getting to the nuts and bolts of the Association's year. A total of 15 teams vying to unseat the Cleveland Cavaliers as champions.
Out west, the Golden State Warriors earned a 65-plus win regular season for the third consecutive year â?? the first team in NBA history to accomplish that feat. Though, Steve Kerr and Co. will be facing a tough first-round opponent in the form of the up-and-coming Portland Trail Blazers. Could an upset be on the horizon there?
Meanwhile, the young Utah Jazz are looking to make their impact felt against a Los Angeles Clippers squad that might be seeing its championship window close.
Back east, there's more of a competitive feel to the playoffs than in previous years. Can the Boston Celtics and Isaiah Thomas take out LeBron James and the Cavaliers?
Thomas, who has flown under the radar for most of his basketball playing life, will now be on that shining stage and ready to prove his worth among the game's best. The same can pretty much be said about John Wall and the surprising Washington Wizards, who surely look primed for a deep playoff run.
These are among the top 10 storylines heading into the 2017 NBA playoffs.
1. Potential first-round upsets in the cards
We have to start out west with the two-time defending conference champions. The Golden State Warriors head into the postseason having won 65-plus games once again and playing their basketball basketball of the Steve Kerr era. That's a scary proposition considering how good the Warriors have been under Kerr.
Despite this, Golden State didn't exactly draw the best of cards for the first round. It will have to take on a Portland Trail Blazers squad that played the team tough in the Western Conference Semifinals last spring. With elite-level matchups across the board here, one could easily draw the conclusion that Blazers two-guard Damian Lillard might be able to get hot and make a series of this.
Add in the presence of fellow rising star C.J. McCollum in the backcourt, and the likes of Stephen Curry and Klay Thompson won't have an easy time of it here. We're not projecting a Blazers upset, but also don't expect a Warriors sweep of Portland in the first round. This will be a very competitive series.
Back east, one could easily draw the conclusion that Cleveland is in trouble. The defending champs pretty much conceded the No. 1 seed to Boston after a historical meltdown at the hands of Atlanta on Sunday. Boasting a sub .500 road record and with a losing mark since March 1st, the Cavaliers are surely vulnerable here.
Meanwhile, Cleveland will now be forced to take on a dangerous Indiana Pacers team that's led by All-Star Paul George in the first round. Indiana ended the regular season on a five-game winning streak, clinching the seventh seed with a win over Atlanta on Wednesday evening.
If nothing else, the matchup between LeBron James and George should be something to focus on here. We also shouldn't forget about the presence of Lance Stephenson on the Pacers. One has to wonder whether he will look to get into James' head by blowing in his ear once again. That will surely be a fun first-round series.
2. Another NBA Finals rematch?
While we did focus on Golden State and Cleveland potentially facing difficult first-round matchups, one of the biggest stories here is whether we will see a third consecutive Finals between the two teams. Some may conclude that it would be overkill, while others claim that one more matchup between this generation's top-two teams will finally decide who is better. It really just depends on the way you look at it.
Fans in Cleveland and Oakland will definitely want to see who will come out on top in a third consecutive NBA Finals matchup between the two teams. For those of the more objective variety, enough is enough.
Out west, there's some new blood in the form of the Utah Jazz, Houston Rockets and Portland Trail Blazers looking to blaze new trails (pun indented). Back east, the Boston Celtics, Washington Wizards and Toronto Raptors have more than proven themselves capable of hanging with Cleveland.
There are, however, two different issues here. Both are really important to look at before we draw the conclusion that Golden State and/or Cleveland will be unseated. The Warriors boast a 24-8 mark in the Western Conference Playoffs over the past two years. Meanwhile, Cleveland is 24-4 back east during that span.
While Steve Kerr and the Warriors head into postseason basketball on a hot streak, the Cavaliers boast a 10-14 mark since March 1st. That might give other Eastern Conference contenders false hope that LeBron and Co. are not the same as the teams that dominated over the past two playoff runs. Then again, Cleveland simply might not be the same team. We'll touch on that a bit later.
As it is, there's two different train of thoughts here. For some, it would be awesome to see these two duke it out in the Finals for a third consecutive season. For others, it is time for some new blood. It will surely be interesting to see how this aspect of the Playoffs pan out.
3. Free agents playing for cash
From Andre Iguodala and Patty Mills out west to the likes of Jeff Teague and Kyle Korver in the Eastern Conference, there are a ton of soon-to-be free agents potentially playing for big paydays in the playoffs.
There's no telling whether Iggy will take a lot less cash to return to Golden State next season. What we do know is that he's proven himself to be worth a nice little contract before the former NBA Finals MVP calls it a career.
With Kevin Durant out of the mix for a month-plus late in the season, Iguodala proved himself capable of taking on a larger scoring role. Add in his defense, passing ability and leadership, and there are surely teams willing to pay him $10-plus million per season …
Read Original Post at
http://www.yardbarker.com/nba/articles/top_10_storylines_for_the_2017_nba_playoffs/s1_12680_23704978

Sports Media 101 searches and spiders for news it aggregates from across the web about your favorite sport or sports team. This article is originally posted at another site not affiliated with Sports Media 101. The portion of the article posted here is to provide a sample of the content available at the linked site. Please click the link to read the full article. Sports Media 101 does not claim any ownership to the content and all rights are retained by the original copyright owner.
Tags:
Andre Iguodala
,
Boston Celtics
,
Chicago Bulls
,
Chris Paul
,
Cleveland Cavaliers
,
Doc Rivers
,
Dwyane Wade
,
Evansville Aces
,
Giannis Antetokounmpo
,
Golden State Warriors
,
Houston Rockets
,
Ian Mahinmi
,
Indiana Pacers
,
J.J. Redick
,
Jaylon Brown
,
Kevin Garnett
,
Kyle Korver
,
LeBron James
,
Los Angeles Clippers
,
Milwaukee Bucks
,
Minnesota Timberwolves
,
NBA
,
Orlando Magic
,
Patty Mills
,
Paul Pierce
,
Portland Trail Blazers
,
Rajon Rondo
,
Rudy Gobert
,
Sacramento Kings
,
San Antonio Spurs
,
Steve Ballmer
,
Steve Kerr
,
Toronto Raptors
,
Utah Jazz
,
Vinny Del Negro
,
Washington Wizards